The Science of Kinesiology
Kinesiology is the study of human motion and looks at the muscles and joint actions as it applies to sport skill and technique.  It allows us to understand and describe movements, key actions necessary for efficient movement, what muscles do what in the performance of the sport skill, and basically everything that involves understanding how sport motion can be most effective.  Biomechanics is a specialized field of Kinesiology that deals with the factors that are physics related:  speed, acceleration, levers, and force.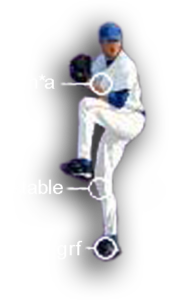 Kinesiology Can Help YOU Be A Better Pitcher
No matter the age or level of a pitcher, each pitcher needs to understand what is supposed to be happening during each phase of the pitching motion.  The pitcher needs to see his pitching motion on film with feedback as to how well he produces the necessary movements.  He then needs to feel and be taught how to improve that which needs improving…while retaining that which is special about his own particular pitching style.
Pitchers are athletes that pitch.  For too long, pitchers have been disregarded and neglected when it comes to serious powerful training methods.  For this reason, injuries that should not occur happen and sometimes end promising careers too soon.  Matching the needs of the mechanics and the physiology of the pitcher to the pitcher's training is essential.
Get to know Angel Borrelli, M.A., CSCS, USAW Sport Kinesiologist
Even when I was a little girl, I found myself teaching kids how to play sports that I had never played.  I couldn't stop myself from trying to help, and I was really good at it.  They say that good teachers and coaches are born, and I think they're right.  I took my innate talent and combined it with many years of education and experience to become one of this country's leading specialists in the field of analytical kinesiology for sport motion and the improvement of performance.
Get Started – Contact Angel Today!
Have a question? Have a comment? Please contact me!

Angel Borrelli, M.A., CSCS, USAW

Sport Kinesiologist
GymScience™ Sport Performance
located in Pleasant Hill, California

925-687-1977


[email protected]